BA, English Language, and Literature, Portland State University
JD, Loyola University New Orleans College of Law
---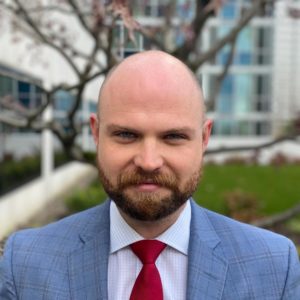 A knowledgeable, seasoned divorce lawyer, Hank Pailet is dedicated to fighting for the rights of his clients. He recognizes the impact of the choices made in divorce and custody cases and uses every available tool to achieve the best outcome.
Hank is a fierce advocate and a valuable resource for the husbands and fathers of the Portland area. Attentive and with deep compassion for those he represents, Hank possesses excellent trial skills and is comfortable handling any case, no matter how it evolves.
He has the comprehensive legal knowledge and is equally adept in the courtroom as he is at the mediation table.
Managing attorney Colin Amos says, "Hank is a creative problem solver with excellent communication skills and an edge that makes him a natural when it comes to standing up for husbands and fathers in divorce and custody cases."
Hank earned his bachelor's degree in English Language and Literature from Portland State University. He then earned his Juris Doctor from Loyola University New Orleans College of Law, where he was recognized for excellence in trial practice.
Raised in Montana and Colorado, when he's not fighting for the rights of his clients, Hank fills his free moments reading and spending time with friends and family. He can also often be found fishing for steelhead with his father or lifting at his favorite CrossFit gym.
Hank is a member of the Oregon State Bar and the Washington State Bar Association and is licensed to practice law in both states.
---
Client Testimonials
I don't provide many reviews but this organization so impressed me I just had to do it. Goldberg Jones provided me excellent successful representation to adjust my spousal support (something almost unheard of in Oregon).

The attorney representing my case, Hank Pailet, is amazing, a real litigator folks. He's easy to get along with, personable, and a down to earth, let's get it done attitude. I highly recommend both the organization and Hank if you need support with divorce questions and representation.

– Charles
I had been through some difficult, confusing, and painful years after losing legal custody of my child. I needed help to get custody back and bring stability to my child's life, and Hank Pailet came to the rescue. He had my case under control from the moment he took it on.

Hank communicated honestly and compassionately, prioritizing my child's well-being and focusing on the aspects of the case necessary to secure a successful outcome. I highly recommend this attorney to anyone seeking help with custody or any family law matter.

– Jonathan
Hank exceeded my expectations and ultimately provided the solutions that met all of my goals without compromise. I started my divorce on my own but quickly realized that I needed professional assistance to reach a fair resolution. I hired Hank because his professionalism was very important to me, as I was able to share personal information that was necessary to understand my situation.

We were able to openly discuss all of my options to determine the best path for me. Because of his knowledge of Family Law, Hank was able to react quickly and bring closure to my divorce. One thing I admire about Hank was his ability to reassure me that I had someone there for me when I needed help. If the need arises, I would hire Hank to help me resolve my legal matters.

– Aiden
Hank Pailet is outstanding! I will tell you that I interviewed 3 high profile attorneys before I decided to pick Hank and I'm very glad I did. Hank was completely honest from day one regarding my case and estimated costs for everything.

He was very prompt in any communication when I needed to speak to him on advice and he went way above the call of duty for me. What is the best thing about Hank is that he gives you all sides of the situation so you are prepared but he is a killer in his preparation and determination to win for you.

Nobody could out-hustle or beat him in court! I loved his aggressiveness when necessary and his compassion when needed. The guy is a true strategist and exactly what you need in a divorce. I will save you time and money if you are reading this…..hire this guy and you WILL not be disappointed! Thank you, Hank….for all you do and getting me the best deal!

– Doug M.
Have Questions About Divorce?
Phone Questions Answered By Our Managing Attorney For Free!