BS Criminal Justice & Political Science, Western Illinois University
JD, Northern Illinois University College of Law, Cum Laude
---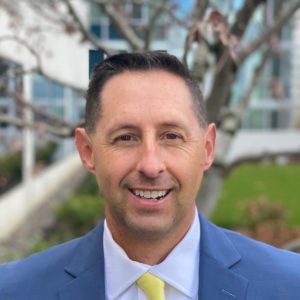 Michael Riedel deeply understands the importance of maintaining the relationship between fathers and their children. A father himself, Michael recognizes the emotional and legal challenges dads face in child custody and family law cases.
Michael works hard to use the right tools for reaching the right resolutions for his clients—He knows when to negotiate and when to fight. This balanced approach has been key in producing client-focused results throughout his career.
Michael's legal career has evolved from law enforcement to prosecutor to family law attorney. His experience in law enforcement and prosecuting enables him to calmly navigate his clients through the ups and downs of a family law case with the insight and empathy that only comes from hands-on experience handling difficult situations.
Managing attorney Colin Amos commented, "Michael really understands the human side of family law. His aggressive advocacy is complemented by his empathy and genuine commitment to serving his clients. He is a fighter that wants the best for his clients. Goldberg Jones is proud to have him on our team."
An active member of the community, Michael volunteers his time as part of a planning committee for the city of Beaverton. When he isn't serving clients or the community he enjoys spending time with his family, working out, golfing, and watching the Chicago Cubs.
Client Testimonials
Mike Riedel has been awesome for me during my divorce and beyond. He has help through what should have been an easy divorce. Through almost a year Mike Riedel has helped get the time I deserve with my kids as well as other issues. I do not know if I would have gotten the time with my kids if it was not for him. Thank you!

– Joshua T.
Let's face it when you get married you don't plan on getting divorced and being a single mom. Mike Riedel is the ultimate professional. Mike made the toughest time of my life a little easier. I knew that I was in great hands and that he would make sure that my kids and I would get a fair outcome. Divorce is heartbreaking and I was lucky that Mike was there to answer my questions and reassure me that everything would be alright at the darkest times of our lives.

– Dawn A.
Mike Reidel was very professional and explain things to me so I could easily understand the process. He gave me very helpful tips and tools and I am very thankful that I was able to meet with him.

– Hollee A.
Mike helped me through the darkest time of my life. I greatly appreciate this firm and the fine people they employ. Divorce/separation is ugly business. At least Goldberg Jones is in your corner when it feels like the weight of the world is on your back. Don't hesitate to reach out to these folks should you need someone to go to war for you. It's worth every penny!

– JD W.
Mike Riedel is as good as it gets! He is always willing to lend an open ear as a sincere and objective listener. Mike is also a realist and has always let me know his honest opinion. When presented with difficult cases he is a kind, respectful, a non-judgmental attorney which has shown me that he truly cares about his clients. I have recommended Mike to many friends in need of a quality attorney and will continue to do so.

– Elsa Y.
Have Questions About Divorce?
Phone Questions Answered By Our Managing Attorney For Free!