Tricia Webb – Divorce Attorney
BA Government Studies/Pre-Law, Eastern Washington University
JD, Lewis & Clark School of Law
---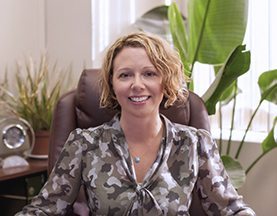 "Tricia is about the most tenacious litigator I have had the pleasure of working with", lauds Managing Attorney Colin Amos. "Her significant criminal defense background and litigation experience give clients comfort when settlement discussions fail.
She is what we would call a 'bulldog' for her clients. Men especially like the fact she is a very strong advocate in custody and spousal support cases." Her very effective philosophy of preparing every case as if it were going to trial leads to better outcomes in settlement for her clients.
A passionate advocate, Webb is equally adept at fighting for the rights of her clients in the courtroom and in mediation. She will continue to put her skills and more than 14 years of experience to work for the husbands and fathers of Portland and the nearby areas.
In her nearly non-existent free time, Tricia enjoys music, swimming, and reading everything from non-fiction to science fiction.
Client Testimonials
Although divorce is very difficult, I was very fortunate to have had Tricia Webb as my advocate. She is professional and personable and was there for me to handle the business portion of my divorce. I would recommend Tricia to anyone going through this.

– Jerry C.
Tricia Webb is the best attorney any father could have in their corner! As a father in Oregon, the law isn't exactly in my favor on the parenting front. I reached out to Goldberg Jones after a particularly awful interaction with the mother of my child who was trying to reduce my parenting time and flat out making co-patenting our daughter impossible.

I was provided with an initial consultation detailing a specific plan of action and the reassurance that my daughters well being came first and foremost. From day one Tricia's experienced, no-nonsense style shone through. She was detail-oriented, saw through opposing counsel's manipulation tactics, and never gave up.

No matter the tactics or trouble my opposition attempted to inflict, Tricia Webb was a constant. She was available without fail for me and my family and took every precaution to ensure that I knew every potential scenario. My family and I could not have asked for a more personal, professional, and caring attorney.
– Marcus B.
Tricia was a great lawyer who understands the system, her clients, and how to keep things simple in a complex situation.

– Brian H.
Tricia was excellent in protecting my rights. Pricey, but absolutely worth every penny in the long run. I would recommend 100% for any father dealing with an extremely difficult and conniving ex-partner/ex-partner's family.

– Stephen P.
Have Questions About Divorce?
Phone Questions Answered By Our Managing Attorney For Free!