BA Political Science and Legal Studies, Seattle University
JD Willamette University College of Law
---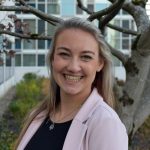 A driven, dedicated attorney, Danielle Ashcraft is a strong advocate for those she represents and always follows through for her clients. She is a passionate litigator, strategic thinker, and a great asset to the husbands and fathers of the Portland area.
The wide variety and opportunity to explore many areas of the legal system drew Danielle to family law. She says, "You have a little bit of everything and that's extremely difficult and overwhelming to navigate for most people. I enjoy being able to guide my clients through complicated family situations. My goal is always to be an active voice for my clients, but most importantly, to also be someone they can trust."
"Family law provides the opportunity to really relate to your clients on a deeper and more emotional level as well," she adds. "My favorite part of this work is my ability to advocate for the best interests of my clients, and even challenge the law when it doesn't fall in line with justice."
Danielle received her bachelor's degree in political science from Seattle University. From there she continued her legal journey, ultimately earning her Juris Doctor from the Willamette University School of Law.
While at Seattle University, Danielle played Division I softball, honing skills that directly translate to her law practice. Competing at such a high level takes commitment and tenacity, not to mention a hatred of losing. She approaches each case with that same fire and enthusiasm, and her clients know she will fight for them to the end.
When not fighting for her clients, Danielle enjoys snowboarding, dancing, and spending time with her close-knit family. She also continues to take the softball field to this day. It offers her both an escape from the stressful nature of the law as well as fueling her competitive spirit.
---
Have Questions About Divorce?
Phone Questions Answered By Our Managing Attorney For Free!