BS Political Science, Western Oregon University
JD, University of Oregon School of Law (Order of the Coif)
---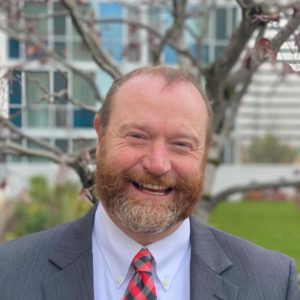 "When it comes to complicated cases that brush against the uncharted legal territory, Brad is our go-to guy," said Colin Amos, managing attorney. "He understands the nuances of Oregon's law and provides a calm, straightforward strategy during what tends to be a very emotionally charged time in a family's life."
Brad takes a unique look at each case, working extensively with his clients toward end goals around parenting time, spousal support, and division of assets.
"The key is to be strategic upfront, yet adaptable throughout the process. I want my clients to know their options and understand the realities of the legal system. What happens during a divorce or custody situation will have a lasting impact on the family. Let's get to a good place from the beginning."
A graduate of the University of Oregon's School of Law, Brad is experienced in all phases of litigation, including depositions, negotiations, and trial. He competes in dodgeball, kickball, and softball and is teaching his young son how to accurately throw balls and to love all things Star Wars.
Client Testimonials
I'm not only a dad who's had to deal with two contentious custody battles in a relatively short amount of time, but I'm an attorney myself.

Being an attorney, I was worried about finding quality representation that met my high expectations–particularly with my parenting time at stake.

Eventually, I found my way to retaining Brad Gerke of Goldberg Jones, and I couldn't have made a better decision. Brad Gerke is a fantastic lawyer. Brad is intelligent, thoughtful, and he is just as comfortable with the facts as he is with wrangling technical rules of evidence.

He is a talented brief-writer and also thinks quickly on his feet. As a litigator, he commands respect and attention in the courtroom. I hired Brad for both of my cases and each time Brad worked tirelessly, on nights and over weekends, to help me obtain the best results possible.

No one can make any guarantees when it comes to the results of a case, but if you're in family court in Oregon, you'll be lucky to have Brad Gerke in your corner.

– Josh
After my initial meeting with Colin Amos, Brad Gerke was assigned to my case. Brad was clear from the beginning about the course my case could take.

He adjusted well to the changes in direction, and although the resolution took a lot longer than I thought it would, I think that proceeding during Covid caused the most delay. I would definitely recommend Goldberg Jones and Brad Gerke to friends and family.

– David
When I reached out to Goldberg Jones for help in my divorce I retained the services of Brad Gerke who was straightforward, calm and focused on my case.

Gentlemen, divorce expensive both financially and emotionally… but doesn't compare to the cost of having peace of mind, parental rights, division of assets and understanding the realities of the legal system and life thereafter.

Suffice to say, I experienced a complicated case; One of those nasty divorces we see on television; Goldberg Jones and Brad Gerke helped level the playing field with professionalism and I know and recommend they are worth every penny.

– Rick
There is something to be said about having the top dogs in a fight. Goldberg and Jones are it. They are efficient and VERY thorough!

They have that intimidation factor that is so important to outside threats. Brad Gerke wont put up with anything and doesn't waist time with nonsense from opposing councel. They might cost a bit more but they charge fairly.

No surprises. If you do what Brad and his colleagues say, you will get the best outcome possible, thats all there is to it. I'm a father and I got all my kids legally and they are safe because of Brad Gerke. Go with Goldberg and Jones. Don't waist time or money with the other guys.

– David
My husband recently required the services of an attorney to have a child support issue handled. He ended up using Brad Gerke at Goldberg Jones and we could not have been happier with the results.

Brad handled the case promptly with professionalism and a sense of humor! Trust me when I say the humor was a necessity where this case was concerned. I could not be more impressed. Highly recommend this amazing attorney for anyone involved in a child support or custody case

– Kim
---
Have Questions About Divorce?
Phone Questions Answered By Our Managing Attorney For Free!