BA History and Spanish, University of Oregon
JD, Willamette University College of Law
---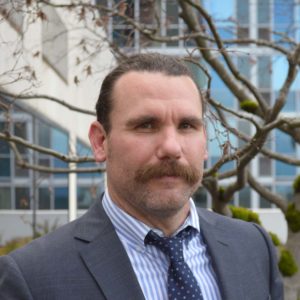 Family law attorney Billy Prince is no stranger to seeing a case through a trial. As a deputy district attorney for the Multnomah County District Attorney's office, Billy has tried numerous cases covering everything from juvenile dependency cases to prosecuting violent gangs.
His experience as a prosecutor has honed his skills as a diligent attorney that isn't afraid to fight to protect his clients' rights. His experience provides a 360 degree perspective on complicated cases that may involve issues like substance abuse, domestic violence, and criminal activity.
Managing attorney, Colin Amos, commented on Billy joining the Goldberg Jones team saying, "Billy is a problem solver. He isn't afraid to roll up his sleeves and tackle the tough cases. He is a fierce advocate for justice and his clients.". Billy is an avid sports fan and outdoor enthusiast. He enjoys surfing off the Oregon coast, and spending time with friends and family.
Client Testimonials
I hired Billy Prince for my divorce…he was very flexible, helpful and understanding of my highly demanding job. He did a great job during my lack of input or availability to communicate on my behalf, which in turn relieved a tremendous amount of stress during hard time. I would recommend him to represent you.

– Mathey D.
"I first met Colin Amos who gave me a general understanding of how things worked during a divorce and my chances of success in court after hearing my situation. Being ten years prior Navy, I have seen many friends go through divorce and already knew most of it.

I could tell he was upfront and honest with me so I decided to hire them. I was directed to Billy Prince to represent me as my lawyer. Throughout the entire nine months of the divorce Billy diligently worked hard on my behalf to receive the best outcome on every given situation.

I was constantly well informed and notified of situations that arose during those nine months. My ex refused to clearly understand our situation and believed she was entitled to at least half of everything. As a result, we fought it all the way to court.

Thanks to Billy, the judge gave her less than what I offered as settlement and I now have sole custody of my kids /w child support and she is the "every other weekend" parent (with an extra night during the week). The only real complaint I have is the financial cost of all this which has landed me in debt. However, the cost would have been more easily affordable had my ex not been bull-headed and accepted my reasonable settlement."

– Jeff R.
Goldberg Jones attorney Billy Prince handled my divorce very well. Billy went above and beyond to help me get through this process as quickly as possible. I filed on Sept 10 and was divorced on Oct 23. I told him I wanted it to be like pulling off a Bandaid. Do it quickly as possible. Thanks, Colin for connecting me with Billy.

– Bob W.
Have Questions About Divorce?
Phone Questions Answered By Our Managing Attorney For Free!