BA Writing-Intensive English, Marquette University
JD University of Wisconsin Law School
---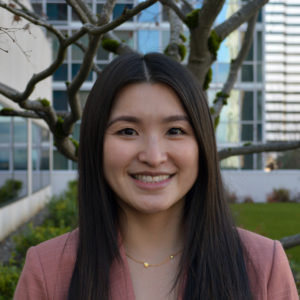 A passionate, enthusiastic defender of those she represents, Elisabeth Cha is a dedicated, effective family law attorney. She's an important member of the Goldberg Jones team in Portland, and a valuable resource for her clients.
Entering the legal field, Elisabeth didn't always target this practice area.
"I came into family law by accident," she says. "But I've found that it really resonates with my passion to help people navigate the legal system, which was why I went to law school in the first place."
She continues, "Most people have either personally gone through or known someone who has gone through a divorce or custody matter. Regardless of where a person is in life, dealing with family law issues is difficult for everyone. So my goal is to help my clients understand the law and how it applies to their specific situations.
If I can get them a result he or she is comfortable with and they understand how we got there, then I've been successful in my role."
Elisabeth earned her bachelor's degree in writing-intensive English from Marquette University, graduating cum laude. From there she went on to study at the University of Wisconsin Law School, where she earned her Juris Doctor.
When not fighting for the rights of her clients, Elisabeth spends most of her time with her husband and their four dogs. They enjoy the natural amenities Oregon and the Pacific Northwest have to offer, including hikes, local vineyards and orchards, and out-of-the-way gems.
---
Client Testimonials
I had the luck of Elisabeth handling my case. She was wonderful and was easy to work with. I'm grateful and would recommend her for anyone dealing with these issues. Thank you again.
– Matt
Elisabeth Cha did an AMAZING job with my divorce case. I thought I had a "Simple Divorce" and it turned out to be a two year nightmare. She was good explaining the process and terminology of a divorce.

She was very responsive to my e-mails and was always willing to investigate things if she didn't have an answer for my questions. Her listening skills are great. I never had issues getting a hold of her if I needed immediate assistance, this is something that not all attorneys do.

When it came to my hearings she was always prepared and was great at presenting my case to the Judge. A divorce is a very stressful situation to go through specially if there are children involved, I am grateful that I had a great attorney guiding me through this process.

– Diana
Coming to a law firm for family issues can be very scary (at least it was for me). Intimidated by the unknown outcome as well as not exactly knowing the financial burden it carries. I sure hope that before you look further for other firms, you will at least read my story. I was fortunate enough to get Elisabeth as my attorney.

She was easy to work with, attentive, and very organized. I admit, I was a little doubtful at first about her as my attorney and having the confidence to work on my case (as she recently arrived at Goldberg and Jones), I wanted someone that had been in the firm longer, but I was far from being right. She is an expert and a professional in the field.

She approached me with direct answers to my needs, and explained in detail what my options were. We had various conversations and strategized moving beyond my case. Elisabeth carried out great work ethic throughout the case, and it paid off as I got the parenting time I requested with my one year old. As a father, I cannot describe how much of a victory this is for me.

I want to reassure the Goldberg Jones team, that they have made an excellent decision moving forward with Elisabeth, anyone to have a team player like her is fortunate to have such passionate person in their team that delivers tailored care towards their customers' needs.

My son and I are very grateful to Elisabeth and the Goldberg and Jones team / family. I would say anyone to choose this firm to represent them can and should be confident that the staff is more than capable to handle any type of case regardless of how complicated it gets.

I also want to give a special thanks to Colin as he prescreened my case to choose the perfect attorney for me. He was very helpful from the get-go, and gave me direction of what I should be doing, what I should be expecting from the case, and how to proceed forward. He was a rudimentary part of this process, and I can definitely see why he is an asset to the Goldberg and Jones team and why they carry a high level of service and care for their customers.

– Ting
Have Questions About Divorce?
Phone Questions Answered By Our Managing Attorney For Free!