B.A. Political Science and Russian, Florida State University
J.D. University of Oregon School of Law
---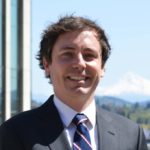 Zach Walsh is a competitive, dedicated attorney and champion for his clients. He's a valuable member of the Goldberg Jones team and an asset to the husbands and fathers of the Portland area in divorce, custody, and criminal law cases, including domestic violence and DUI.
Personable and patient with those he represents, he's also a fierce litigator when the situation demands. Before gravitating toward family law and joining the Goldberg Jones family, Zach worked in both criminal defense and as a prosecutor. This provides a well-rounded legal knowledge, as well as a unique perspective on the law and an innate sense of the best way to attack a particular case.
Outside of the legal field, Zach worked in Moscow for the Economic Section of the U.S. State Department. He concentrated on anti-piracy research and its impact on Russia's role in the World Trade Organization.
Talking about Zach, managing attorney, Colin Amos, says, "Zach's sharp and friendly, and he works tirelessly to meet and exceed the expectations of his clients. He shows them right away they're in great hands."
He graduated cum laude from Florida State University with bachelor's degrees in Political Science and Russian. From there he attended the University of Oregon School of Law in Eugene, where he earned his Juris Doctor.
When not fighting for the rights of his clients, Zach Walsh can often be found enjoying the company of his family or the schizophrenic weather the Pacific Northwest has to offer. An avid outdoor enthusiast, he worked in the Gifford Pinchot National Forest for the U.S. Forest Service and AmeriCorps.
Super helpful and friendly! He was very knowledge and really went out of his way to help my dad and was extremely patient with him as well, as there was a language barrier. I would definitely recommend him to friends and family. He really showed care about our situation and that we were not just another client. Thank you, Zach! – Gustavo
Worked with Zach on a strategy to resolve my problem. Quickly managed the issue for a reasonable cost without a drawn out court battle. Would recommend. – Ben
---
Have Questions About Divorce?
To Get your Phone Questions Answered at No Charge