B.A. Political Science and Russian, Florida State University
J.D. University of Oregon School of Law
---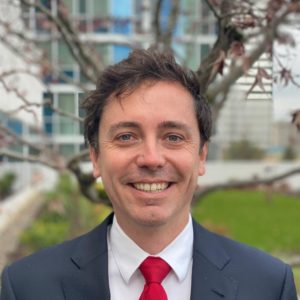 Zach Walsh is a competitive, dedicated attorney and champion for his clients. He's a valuable member of the Goldberg Jones team and an asset to the husbands and fathers of the Portland area in divorce, custody, and criminal law cases, including domestic violence and DUI.
Personable and patient with those he represents, he's also a fierce litigator when the situation demands.
Before gravitating toward family law and joining the Goldberg Jones family, Zach worked in both criminal defense and as a prosecutor. This provides a well-rounded legal knowledge, as well as a unique perspective on the law and an innate sense of the best way to attack a particular case.
Outside of the legal field, Zach worked in Moscow for the Economic Section of the U.S. State Department. He concentrated on anti-piracy research and its impact on Russia's role in the World Trade Organization.
Talking about Zach, managing attorney, Colin Amos, says, "Zach's sharp and friendly, and he works tirelessly to meet and exceed the expectations of his clients. He shows them right away they're in great hands."
He graduated cum laude from Florida State University with bachelor's degrees in Political Science and Russian. From there he attended the University of Oregon School of Law in Eugene, where he earned his Juris Doctor.
When not fighting for the rights of his clients, Zach Walsh can often be found enjoying the company of his family or the schizophrenic weather the Pacific Northwest has to offer. An avid outdoor enthusiast, he worked in the Gifford Pinchot National Forest for the U.S. Forest Service and AmeriCorps.
---
Client Testimonials
I switched from a different lawyer to Zach Walsh with Goldberg Jones about a month before trial regarding a parenting time modification. Despite the time crunch, Zach answered all my questions, provided clear advice, and was very responsive.

I did not expect to reach a settlement but Zach had a feel for how to best negotiate with the other party's lawyer and we reached an outcome I was happy with. It was a relief to feel like I had a true advocate through this process. I would highly recommend Zach for anyone going through a high conflict divorce or modification.

– Matt A.
Zach Walsh from the Portland office of Goldberg Jones represented me in my divorce proceedings. Anyone who is seeking an attorney in a difficult time such as divorce should consider all options carefully. Divorce is difficult, as I found out first hand. Zach skillfully negotiated the process from start to finish.

He's an expert in managing expectations, under promising and over delivering. My divorce was expensive, but I must say it was a fraction of what it would be had I not gotten the expertise from Zach. Zach is soft spoken, but not when it came to litigation and mediation. He turned the fire up and got the job done. I highly recommend Zach from Goldberg Jones.

– Peter L.
Super helpful and friendly! He was very knowledge and really went out of his way to help my dad and was extremely patient with him as well, as there was a language barrier. I would definitely recommend him to friends and family. He really showed care about our situation and that we were not just another client. Thank you, Zach!

– Gustavo
Worked with Zach on a strategy to resolve my problem. Quickly managed the issue for a reasonable cost without a drawn out court battle. Would recommend.

– Ben
Working with Zach W. was great, very friendly and understanding of my situation, he went above expectations to help me get a fair decision and was great dealing with her ***** attorney.

– Tom
Zach Walsh was an amazing attorney during my post-divorce with dealing with gaining additional parenting-time and other issues. He was patient, professional, timely, and understood the importance of family law.

By understanding that children are the most beneficial factor of a high conflict post-divorce matter. Zach worked with ease and got the outcome that I wanted. I would recommend Zach to anyone who is thinking about divorce, has a high conflict case, or needs advice. My family will use him in the future if we need him.

– John
I had initially thought my case would be difficult to work with due to me living overseas, but Goldberg Jones proved otherwise! I had Zach Walsh as my attorney and he handled my case wonderfully! If you're in an unusual situation like I was and you like seeing results, Goldberg Jones is the perfect team for you!

– Keoni
Have Questions About Divorce?
Phone Questions Answered By Our Managing Attorney For Free!