BS, Political Science, Oregon State University
JD, Marquette University Law School
---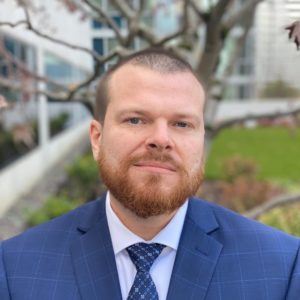 An effective, passionate attorney, John Alarcon is a strong advocate for his clients and an invaluable resource for the husbands and fathers of the Portland area in divorce, custody, and other family law matters.
Discussing what draws him to family law, John says, "It has such a human element we all can relate to, and having gone through a divorce myself, I feel a close, special kinship with domestic relations."
John knows firsthand the pitfalls men face going through the process of a divorce or child custody case. He seeks to help them through what is so often a difficult, trying time and to reach the best possible resolution.
A practiced, compassionate professional, John strives to be candid and upfront with those he represents while putting their needs at the center of his approach to a case.
John spent five years as a Judicial Clerk for the Multnomah County Circuit Court. This gives him a unique, behind-the-scenes insight into a judge's mindset, which is instrumental in preparing his clients for court and for developing a litigation strategy.
Talking about John, managing attorney, Colin Amos, says, "John is a sharp, personable attorney with excellent communication skills. Clients meet him and know right away that they're in great hands."
An Oregon native, John received his BS in political science from Oregon State University in Corvallis. Following that accomplishment, he earned his Juris Doctor from the Marquette University Law School in Milwaukee, Wisconsin.
When he's not fighting for the rights of his clients, John enjoys hiking and exploring the great outdoors, spending time with his family and their pets, and recording music at home. He also volunteers his legal expertise with a local non-profit.
---
Client Testimonials
"John was my lawyer for my complex divorce, and he was a zealous advocate throughout the entirety. John was thoughtful, caring, and proved a brave tactician when it came to strategizing the best way to handle my case. John made otherwise difficult information seem very straightforward, and was always a responsive communicator. He really helped me land on my feet after a very difficult process."

-Derek
"John represented me during my divorce and custody case. He was extremely helpful and supportive. Clear, concise, and effective/timely communication really helped the entire process. I appreciate his dedication to every client and I highly recommend him to my friends and family when they are in need."

– LD
"John represented me during my custody case in 2019, I'm very grateful for how he handled my case with care and tact. I found that he used our appointment time efficiently and effectively, he didn't get bogged down with extraneous details and was able to view the case as a whole.

"He was very supportive which helped a great deal during the case, as it was very complex and stressful but I felt more at ease with him on my team. I would highly recommend John to anyone seeking an experienced, professional, and considerate attorney."

– David
Have Questions About Divorce?
Phone Questions Answered By Our Managing Attorney For Free!