UPDATE: …and new champion in 2019… Okay, maybe being crowned the divorce capital of Oregon isn't a feat to aspire to.
And this year, that dubious honor goes to Umatilla. The town of just over 7000, located near the northeastern corner of the state, took over the top spot from Sheridan.
According to the latest numbers crunched by 24/7 Wall St., 20.1% of Umatilla's population is divorced. On the other side of that coin, an even 30% are married, happily or otherwise.
ORIGINAL POST- 2018: Oregon has multiple capitals. Salem, of course, is the actual state capital, but we're talking about a different, less official type. For example, Roseburg is the "Timber Capital of the Nation" and Cottage Grove is the "Covered Bridge Capital of Oregon." If you've driven along I-5, you've probably seen the billboard proclaiming Linn County the "Grass Seed Capital of the World." Travel Portland recently declared the city the "Beer Capital of the World." Bold claims in some cases, to be sure. But Oregon also has a new capital, a divorce capital.
Divorce is an unfortunate fact of life. According to conventional wisdom, roughly half of all marriages fail. It's even higher for second or third tries. Divorce rates vary from one state to the next, and even from city to city within those borders.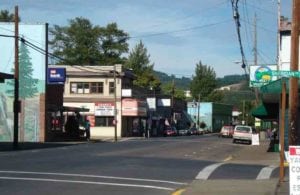 24/7 Wall St. dug into recent Census Bureau statistics to find the divorce capital of each state. That is, they identified the city in each state which has the highest percentage of divorces for people over 15-years-old. This list includes Oregon.
Drumroll, please.
And the divorce capital of Oregon is…Sheridan.
Located in Yamhill County, first incorporated in 1880, and home to Federal Correctional Institution, Sheridan, just over 6000 people reside in the city.
According to these findings, the divorced population stands at 20.8%. Compare this to the statewide number, which checks in at 13.2%. On the other side of this coin, 38.3% of Sheridan's population is married.
Related Reading: Spousal Support in Oregon: Huge New Changes
What Does This Mean?
Like most statistical analyses of divorce, what this data means varies from one person to the next. Does this say that, if you live in Sheridan, Oregon, your marriage is doomed to fail? 38.3% of the population may disagree with that. So, not necessarily.
Is there something about this particular region that makes marriage more difficult? The leading employer in the city is the federal prison, which sounds like stressful work. That could add extra pressure to a union, though that's all speculation and conjecture.
No two marriages are the same, and consequently, no two divorces ever play out in an identical fashion. What ends a marriage in one case, doesn't cause the same outcome in another. Many factors contribute to the decay of marriage and lead to divorce. Yes, one of them is often location, but not always.
In the end, the numbers are just that, numbers. They can mean whatever you want them to mean. More than anything, this presents an interesting fact and offers a different perspective for looking at divorce. For now, Sheridan wears the Oregon Divorce Capital crown. That may very well change in the future.